"Manufacturing all types of wooden pallets for Puerto Rico and the Caribbean"
Whether it's shipping, storage or handling of materials, Paleteras Unidas is your best choice when it comes to new pallet manufacturing.
We excel in developing the cost effective platforms that best suits your loads and your budget. We create the pallet you need.
Regulation of wood packaging material in international trade:
Regulation of wood packaging material in international trade Regulation of wood packaging material in international trade ISPM 15 International Plant Protection Convention ISPM 15-5 Adoption This standard was first adopted by the Fourth Session of the Interim Commission on Phytosanitary www.ippc.int
WOOD PALLET & PHARMACEUTICAL INDUSTRIES WORKING TOGETHER: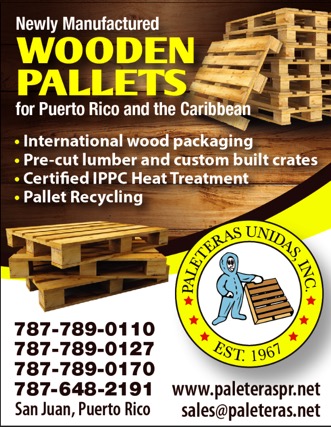 OUR SERVICES
Paleteras Unidas Inc


Sale & Manufacturing of wooden pallets
Pallets products
Recycling
Pre-cut lumber and custom built crates
Certified Pallet Markings
Pallet Heat Treatment
International wood packaging